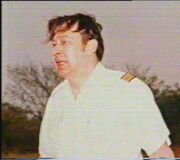 "After he'd held us up for an half an hour... now he's in a rush."
― George Warns 
George Warns
Birthday
12 December 1930
Death day
22 April 1991
Adress
RD No. 1, Box 6 Slairstown, NY
Gender
Male
Total hours for 27.3.1977
16,210
Total hours for 27.3.1977 on Boeing 747
559
Total hours for 27.3.1977 on last 30 days
52:01
Total hours for 27.3.1977 on last 24 hours
6:33
Last medical examination
25 July 1976
Last proficiency check
Unknown
Certificates and ratings
Flight Engineer No. 1313579
George W. Warns (b. 12 December 1930, d. 22 April 1991) was an American flight engineer of Boeing 747 aircrafts. On 27 March 1977, when the Tenerife Airport Disaster occured, George Warns was the flight engineer on board the Pan Am Flight 1736 747.
Documentaries
Edit
Ad blocker interference detected!
Wikia is a free-to-use site that makes money from advertising. We have a modified experience for viewers using ad blockers

Wikia is not accessible if you've made further modifications. Remove the custom ad blocker rule(s) and the page will load as expected.