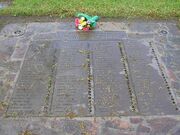 Pan Am Flight 1736
was a flight number of
Boeing 747
-121 of
Pan American World Airways
airlines. This was the flight that was involved in the
Tenerife Airport Disaster
on the 27th of March, 1977. Its' tail number was
N736PA
. It was known for its' name -
Clipper Victor
(or
Clipper Young America
). It began its' service for Pan Am airlines in 1970.
It was the first 747 to make a commercial flight, flying from New York to London Heathrow when the planned aircraft, Young America, developed a mechanical problem on 22 January 1970.
In its' first year of service the aircraft became the first 747 to be hijacked. It left JFK airport for San Juan, Puerto Rico, at 1:07 on August 2, 1970, 359 or 360 passengers and 19 crew. At 2:47 a young man named R. Campos produced a gun and a bottle out of a bag that he claimed contained explosives, and hijacked the plane to Havana, where it touched down at Jose Marti Airport at 5:31. The first 747 to land in Cuba, was met by Cuba's Premier Fidel Castro.  Following this incident the aircraft was renamed Clipper Victor.
Airplane crew on 27 March 1977
Edit
The captain of the American plane was Victor Grubbs. The first officer was Robert Bragg, and the flight engineer was George Warns. On board of the Pan Am 1736 were two airline employeers: John Copper and Juan Rivas. Dorothy Kelly was the main stewardess of first class lounge. There were also three stewardess that survived the accident: Carla Johnson, Joan Jackson and Suzanne Donovan. Everyone listed here are those who survived.
But there were 9 fatalities of flight 1736. Francoise Colbert de Bealieu Greenbaum (purser), Miguel Torrech Pere (steward) and 6 stewardess: Mari Asai, Sachiko Hirano, Marylin Lunker, Carol Thomas, Aysel Sarp Buck and Luisa Garcia Flood.